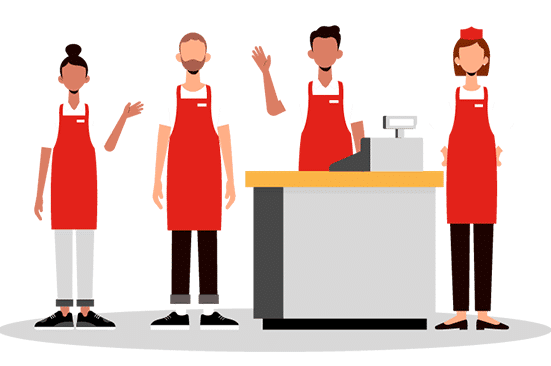 Retail
Tight margins, stiff competition and a fickle customer base are all challenges that are only too familiar to retailers. We can help! Our multi-disciplinary team of retail legal and financial professionals have an excellent understanding of the challenges which retailers face. Using our extensive knowledge of the sector, as well as our broader understanding of commercial and tax law, we are able to devise customised financial plans that meet the specific needs of your business.
We have experience in assisting retail enterprises of all shapes and sizes: from long-standing enterprises with several branches and a significant online presence, right through to small, local start-ups, we can provide the financial information and assistance you need to improve your chances of staying ahead in a notoriously competitive sector.
When you use us to assist with your retail venture, you are working with financial experts who make sure to stay up-to-date with new guidance, regulations and ATO requirements. We pass this information on to our clients, ensuring they have the data needed to run their business successfully. No matter what stage your retail enterprise is at, we can provide the tax, financial planning and business management support needed to help you reach your goals.
Tax assistance for retail ventures
The volume of transactions which take place as part of a retail business means that robust systems are essential right from the start of trading. If you're a start-up, or have been trading a while but recognise that your systems aren't keeping pace with the volume of orders you're receiving, we can help you put in place the robust financial systems you need. Once you've generated the information needed to inform your tax return, we can make sure you're claiming all the tax-deductible expenses you're legally entitled to, before submitting your return to ATO. As well as assisting in the submission of accurate, timely tax returns, we can also help with:
bookkeeping
ATO audits.
queries over CGT and SGT.
tax compliance issues.
accessing tax-efficiency strategies and any fresh tax-saving initiatives which come on stream.
resolving ATO queries, forensic accounting and assisting businesses who are struggling to provide ATO with appropriate financial information.
No tax problem is too big or small for us to deal with. Even if your ATO submissions are all up-to-date, it's still worth getting in touch to ensure you've taken advantage of all the tax-saving strategies that are appropriate for your enterprise.
We help you plan ahead!
Like many other businesses, retail facilities are very much at the mercy of external, economic variables. The right financial strategies can provide a powerful buffer against bad fortune, which is why we recommend a regular financial planning audit to ensure you're on track. We listen to what you want to achieve, then come up with the strategies and financial products which, in our view, are most likely to enable you to reach your targets. Regular review ensures you remain on target, no matter what challenges you may come up against.
Looking for long-term support? Pherrus believes in working alongside clients on a long-term basis, providing the financial, legal and business expertise needed for a business to thrive and evolve successfully. Financial planning can help you to:
optimise your assets.
create wealth.
invest profits advantageously.
borrow in a way which minimises loss to your business.
restructure borrowing to your advantage.
select insurance and mortgage policies that benefit your business.
We understand that every business is a little different: clearly the aims of a sole trader approaching retirement age are not going to be the same as those of a partnership composed of younger professionals, for example. Our accountants, agents, consultants and legal professionals offer tailored advice and recommendations that enable you to work towards your individual commercial goals.
Retail business management assistance
Over the years, we have worked with a wide selection of retail businesses, using our experience and knowledge to suggest ways of working that optimise competitive advantage and responsive trading. Pherrus can ensure you have the right financial data to make fast decisions when it matters, resulting in a nimble operation that can quickly position itself favourably as external variables change. In addition, forward-thinking strategies put your business on an upward trajectory towards continued success. Innovative, relevant solutions make it easy for retailers to reach their goals.
Common areas of operation where Pherrus provides additional input include:
payroll maintenance and support.
business strategy development.
assistance with bookkeeping, training in financial processes and auditing compliance.
suggesting appropriate software and training in its use, if relevant.
assessment of proposed business direction options from a financial perspective, giving decision-makers the data they need to decide wisely.
Far more than simply an accountancy firm, we are here for our retailers at every stage of their trading experience.
Pherrus is able to work with almost any retail business. With a particular focus on SMEs, we are a popular choice with start-ups, as well as retailers that wish to outsource various aspects of their financial operation. We can tailor what we do to meet your specific requirements: call us now to discuss what you need, or find out more about what we can offer.