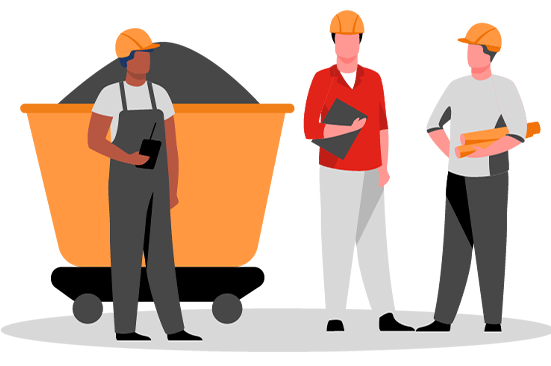 Mining
Although the mining industry can be a lucrative one, its volatile nature can often present significant difficulties for the companies that operate in it. Pherrus Financial Services already works with a number of mining businesses, assisting with everything from accurate completion of tax returns through to the provision of high-grade investment, insurance and business planning advice.
We operate a one-stop solution to your financial planning, auditing and management needs. Working flexibly with our clients, we deliver custom support that dovetails with what each company requires for success. We can work alongside your existing finance team, or build capacity within your organisation so that you can create your own high-grade financial data to inform decision-making.
Our team can work with your business at any stage of its development. With a particular emphasis on assisting new, start-up mining companies to hit the ground running, we can also work with more mature companies to handle tax issues, build financial capacity and maximise the opportunities for wealth creation.
Contact us to find out more about our services for the mining sector, including details of our capacity building and income generating strategies.
One-stop solution for ATO requirements
For many mining companies, completion of a tax return can be problematic. The speculative, fast-changing nature of the mining business means that predicting income and expenditure is difficult to do accurately. There are also challenges around asset management and speculative investment. The agents, accountants, legal professionals and consultants we use have plenty of background in the mining industry. This enables them to complete your tax return from a position of wide knowledge and appreciation of the complexities of the industry. Turn to us for assistance with:
ATO tax return preparation and submission.
on-going support with preparing and maintaining financial data to inform the tax return.
assistance with resolving ATO queries and apparent discrepancies.
support if ATO have requested an audit.
specialist assistance with CGT and GST if required.
niche tax advice as it relates to mining companies. This may include informing companies of any new government support or guidance, as well as advising on issues where financial considerations are influenced by legal requirements or similar.
We provide every mining company with the information they need to implement the changes needed to achieve long-term tax savings. Our clients stay with us for years, valuing the positive financial outcomes they see when they start working with us.
Support for your financial planning in the mining industry
The mining industry is characterised by significant peaks and troughs in income, dependent on variables such as demand, mining costs, the discovery (or otherwise) of fresh mining resources, speculative operations, and a range of other factors. Although income may vary wildly, companies still have to meet similar levels of outgoings each month. We can help a mining company to put in place strategies that will assist cash flow, reducing the risk of lean times having a detrimental effect on performance. For companies who are making a profit, we can suggest strategies that can make your profits work for you. Whether that involves investing in more land or speculative drilling, or investing appropriately, our multi-disciplinary team can come up with a wealth creation strategy that's designed to meet your goals.
In addition to tax minimisation and wealth creation, we are also able to advise on appropriate insurance for mining companies. Our mining experts will do their utmost to ensure you've got the right level of cover at an advantageous price. Ask us about our insurance product recommendations!
Mining businesses may lack capacity
Although the owners and senior managers within a mining company are often highly successful at what they do on an operational level, they may not have the background needed to optimise financial capacity in their business. This is where we can help. We are able to deliver tailored support at every level within an organisation. From providing training in financial processes and appropriate financial software, through to analysing business models, assisting with goal setting and creating KPIs (Key Performance Indicators) that can make a real difference to performanc, we offer a wide range of capacity building assistance.
Have you thought about revising your business plan? Or taking your financial systems to the next level? Pherrus can provide a wide-ranging, tailored package of support that can include help with almost any facet of financial management, taxation or wealth creation.
By putting the right structures and processes in place early on, businesses stand the best chance of creating the firm foundations needed to succeed financially. Once we've put something in place, we recommend periodic review, evaluation and reconsideration to ensure your financial goals, plans and strategies remain effective and relevant.
In a fast-paced, rapidly changing industry like mining, current financial data that can be easily interpreted is vital. We give you the tools needed not only to create the data you need, but also to present it in a way that's easy to interpret and meaningful. No matter what stage your mining company has reached, our accounting and legal professionals can help move it forward.