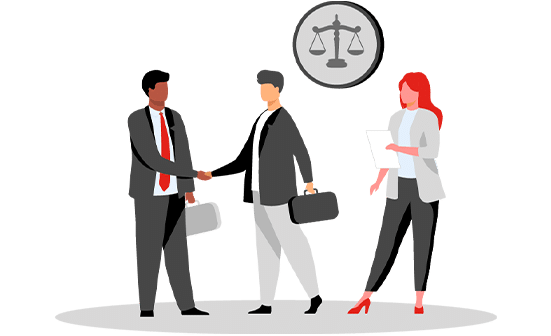 Legal
From the complex partnership structures which make up a typical legal practice through to the way in which legal advice is paid for, legal practices face a number of different challenges. Although legal professionals are clearly experts in the law, unless they are specialists in tax and commercial law, they may not have the specialist knowledge needed to run their practice in a compliant fashion.
Pherrus Financial Services works with a number of legal practices, giving them the support they need to comply with relevant regulations and tax law. We offer a complete suite of financial and legal services intended to ensure a business's finances are as tax-efficient and well-managed as possible.
Our team consists of consultants, agents, accountants and legal experts who are able to create customised financial solutions for a variety of legal practices. Whether you need assistance to submit a prompt, accurate tax return, are looking to build capacity to streamline payroll and bookkeeping within your organisation, or would value some input into your financial planning and goal setting, we can meet your requriements.
Get in touch to find out more about our range of services for legal practices, as well as to tell us what you need in order to get the results you're looking for.
One-stop solution to ATO requirements
Depending on the structure of your legal practice, there may be a need to submit more than one tax return. Frequently, partners in the company will need to supply information for the corporate tax return, as well as submit separate figures in their own, personal tax return, which covers other sources of income. We are able to complete both personal and commercial returns, offering a holistic service that is designed to make your life easier.
As well as assistance with submitting a return, we are also able to assist with any queries which ATO have raised regarding a recent return. From discrepancies in your figures through to items being accidentally excluded as expenses, or the discovery of some other error or omission, our team can resolve the problem for you
With particular expertise in CGT and GST, we are able to calculate your tax obligation, as well as make sure you're aware of a number of tax-saving strategies that could reduce the amount of CGT and/or GST you are required to pay. If you need any assistance with tax matters, get in touch and we will be happy to help.
Financial planning for your legal practice
Tax-efficient operation is just one aspect of running a successful legal practice. Cost-effective borrowing, shrewd investment and the right business structure are all considerations that can either save you cash or enable it to work harder for you.
When we work with clients, we take a long-term, holistic view of their finances, suggesting strategies that help them to meet their long-term objectives. Our team are able to work with start-ups, more established partnerships and even businesses which are running down. No matter what stage you're at, we can put together a plan that will get your finances on firmer ground.
Pherrus can brief you on the up-to-the-minute financial situation as it affects your legal practice. Whether it's a new regulation which has been introduced by ATO, or a fresh government initiative, we can tell you what it is and what implications it has for your business.
We have an excellent knowledge of current financial products, including lending, insurance and investment choices. If you need to borrow, or are planning to invest, we can suggest ways to offset tax against your other financial obligations, potentially saving you money. Give us a call to find out more about the advantages which tax-efficient working can bring.
Does your legal practice need effective business management?
When was the last time your business plan was reviewed? Although many legal practices start off with a comprehensive business plan, there is a tendency for it to be ignored as time goes on. Changing circumstances (for example, a partner wishing to leave the practice, a relocation or a change of focus) can mean that there's a real need to revisit the assumptions on which the plan was made and come up with a different way forward.
in place the systems and processes which are likely to give you the best results. Whether you need assistance with your bookkeeeping processes, or are trying to decide on the right software to get your payroll done, we can advise, as well as train stakeholders in their use. In addition, we offer a suite of business modelling services, enabling us to find coherent pathways for businesses who want to follow a logical process to realise their objectives. Particularly when used alongside our financial services, our suite of business services can transform the way that you work.
Ensuring that your legal practice delivers optimal financial outcomes can be a challenge – we can help. Get in touch now to find out how you could become more tax-efficient, or find investment products which tick your boxes.