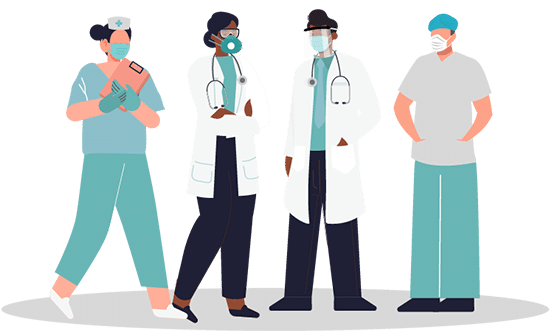 Medical
Just like any other business, surgeries, clinics and practices need to operate in a way that covers their outgoings and generates a profit. The medical sector also faces a set of unique challenges when it comes to maintaining profitability: the constraints of insurance payouts, for example, the need for specialist premises and the comparatively high outgoings associated with remaining up-to-date from a professional perspective can all make it harder for medical facilities to maintain healthy finances.
Pherrus Financial Services is an established provider of business management, accountancy and legal advice for medical establishments across the country.
We work with a wide range of different practices, such as: doctors; physiotherapists; chiropractors; podiatrists; alternative practitioners (for example acupuncture professionals); counselors; psychiatrists, psychologists and other mental health professionals. Our team are able to provide the specialist input you need for every aspect of your financial affairs. We work with new practices, as well as clinics that are undergoing a period of transition, or which are experiencing financial difficulties. Whether you need help with your tax return, the right financial information to support the purchase of new premises, or assistance with a tricky financial matter, we have the capability to deliver what's needed.
Medical tax returns completed on time
Ensuring that the tax return you submit to ATO is accurate and sent in on time is just a small part of what we can offer when it comes to meeting your tax efficiency goals. When we work with clients, we tend to take a long-term view of their needs, coming up with tax strategies and plans which are in line with their end game objectives. We recognise that it's not enough to submit an accurate tax return – it's also vital that none of our clients are paying more tax than they should be. When we collate your tax return, we'll come up with suggestions that will save you tax in the future, as well as the present. Knowing how operate in a tax-efficient manner can help you plan your surgery's future in the most profitable manner
We are able to provide professional assistance with all aspects of ATO requirements, including:
submission of timely, accurate tax returns and business activity statements.
putting in place systems to generate appropriate financial information.
dealing with ATO audits / requests for further information.
providing information on tax regulations which are specific to the medical sector.
Long-term financial planning to grow your surgery
We understand that the day-to-day financial management of your practice is just one aspect of your financial planning. At Pherrus, we give you access to experienced accountants, consultants, agents and legal professionals who have in-depth knowledge of the medical sector. Our team understand the constraints and opportunities which are unique to surgeries, clinics and hospitals. This puts us in a strong position to advise on your long-term financial strategy, giving you the input you need to reach your goals. It doesn't matter whether your surgery is a new venture, or an established practice that you're trying to put on a firmer financial footing, we can provide the financial planning expertise you're looking for.
We are able to provide a range of financial planning services for medics, such as:
assistance in managing existing borrowing, as well as determining the most tax-efficient, economical way of obtaining further borrowing if required.
assistance with managing assets in a tax-efficient manner, at the same time as optimising profit from investments.
Our financial planning services are tailored to meet your needs – we are here to serve your practice, providing the support needed for your to reach your individual business goals.
Have you carried out sufficient medical business planning?
With health and well-being becoming an increasingly important issue for Australians, the future for the medical sector looks bright. With the right business planning, it's possible to set your practice up for success right from the start. We have worked with medical practices of many different types, giving them the assistance with operational and strategic planning that's been needed to make the business as streamlined and secure as possible. We are able to help in a range of different ways, including:
payroll matters.
informing long-term business modelling, defining appropriate objectives and KPIs.
offering advice on matters such as: timing of a move; whether to lease or purchase; refit considerations; and business structure.
suggesting software which will provide your clinic with suitable financial systems.
advising on exit strategies, such as mergers, clinic sales or winding down a clinic.
Our aim is always to provide assistance that ultimately enables you to achieve your end goals, whatever those might be. We recognise that there is no one-size-fits-all solution for financial success. Our team will work with you at whatever stage of business activity you're at, in order to get you on track for sustainable success.
Contact us now to discover how our tax-efficiency suggestions could save your practice thousands of dollars each year! We are able to provide the financial input you need to steer your business forward successfully. Get in touch to find out more.